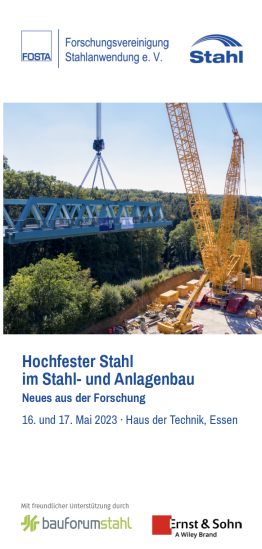 16. und 17. May 2023
Hochfester Stahl im Stahl- und Anlagenbau, Haus der Technik, Essen
The event reports on the FOSTA research cluster HOCHFEST, which deals with the processing of high-strength steels in steel construction and mechanical engineering in several subprojects. HOCHFEST was established about 3 years ago and, with the help of steel application research, identifies precisely those technical-scientific issues that can contribute to the improvement of design and construction rules, the further development of design and application techniques, and the expansion of areas of application for high-strength and ultra-high-strength steels in steel construction and mechanical engineering. The event will also present research projects currently in progress that have been initiated since the start of HOCHFEST and address complementary issues. All in all, the event will provide an overall picture of 35 current FOSTA research projects on the application and processing of high-strength steels. It gives participants from industry and academia the opportunity to discuss the content of the projects, to receive further training and to network in this subject area.
Click here for the program booklet and online registration (in German)
---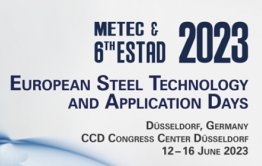 12. bis 16. June 2023
METEC & 6th ESTAD (European Steel Technology and Application Days)
Auch im Jahr 2023 öffnet die Messe Düsseldorf vom 12. bis 16. Juni 2023 ihre Tore für Referenten und Teilnehmer der METEC und der 6. Europäischen Stahltechnologie- und Anwendungstage (ESTAD). Das Stahlinstitut VDEh und seine Partner begrüßen Vertreter führender Unternehmen aus der ganzen Welt.

Die Vorträge sind in folgende Themenbereiche gegliedert:
Eisenerzeugung
Stahlerzeugung
Walzen und Schmieden
Stahlwerkstoffe und ihre Anwendung
CO₂-Migration, Umwelt- und Energieaspekte
Industrie 4.0
Verpassen Sie nicht diese großartige Gelegenheit, sich über die dynamischen Veränderungen in allen Bereichen der Eisen- und Stahlproduktion, die neuesten Technologien in der Eisen- und Stahlproduktion, Stahlwerkstoffe und Stahlanwendungen zu informieren.
Weitere Informationen finden Sie unter www.metec-estad2023.com
---

24. bis 26. October 2023
79. HärtereiKongress (HK) und 2. Fachtagung Steel Innovation (SI)
HeatTreatmentCongress: The HeatTreatmentCongress with the proven division into scientific symposium and practitioners' conference. The largest European congress on topics of heat treatment and materials technology, manufacturing and process engineering.
Steel Innovation: Congress event of AWT/DGM Joint Committee "Materials Technology Steel" on Innovations in the Development and Production of Steels
Trade fair organised by F&E Technologiebroker GmbH to accompany the HeatTreatmentCongress
Main topics HeatTreatmentCongress 2023
Heat treatment - processes, equipment, media, safety
Sustainability concepts for heat treatment plants and process chains
Production and machining of components in the process chain
Properties of components in machining and application
New material developments
Material analysis and quality control
Artificial intelligence, simulation and digitalisation
Main topics Steel Innovation 2023
Materials Engineering steel
Digital steel technology
High strength and wear-resistant steels
Sustainable steel - recycling, re-use and re-manufacturing
Corrosion-resistant steels
Hydrogen embrittlement /steel development for the hydrogen economy
Materials testing steel
Increasing the damage tolerance of steels
New steel concepts for additive manufacturing
Further information can be found at www.hk-si.de.
---