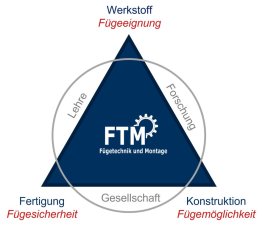 04. und 05. October 2023
Dresdner Fügetechnisches Kolloquium 2023
The XI Dresden Colloquium on Joining Technology continues the long tradition of reporting on teaching and research as well as technology transfer in the field of joining technology and assembly.
You can expect lectures from science and industry on current findings in thermal, mechanical and adhesive manufacturing.
The evening programme offers a variety of opportunities for networking.

Detailed information on the colloquium can be found on the following website.
---

24. bis 26. October 2023
79. HärtereiKongress (HK) und 2. Fachtagung Steel Innovation (SI)
HeatTreatmentCongress: The HeatTreatmentCongress with the proven division into scientific symposium and practitioners' conference. The largest European congress on topics of heat treatment and materials technology, manufacturing and process engineering.
Steel Innovation: Congress event of AWT/DGM Joint Committee "Materials Technology Steel" on Innovations in the Development and Production of Steels
Trade fair organised by F&E Technologiebroker GmbH to accompany the HeatTreatmentCongress
Main topics HeatTreatmentCongress 2023
Heat treatment - processes, equipment, media, safety
Sustainability concepts for heat treatment plants and process chains
Production and machining of components in the process chain
Properties of components in machining and application
New material developments
Material analysis and quality control
Artificial intelligence, simulation and digitalisation
Main topics Steel Innovation 2023
Materials Engineering steel
Digital steel technology
High strength and wear-resistant steels
Sustainable steel - recycling, re-use and re-manufacturing
Corrosion-resistant steels
Hydrogen embrittlement /steel development for the hydrogen economy
Materials testing steel
Increasing the damage tolerance of steels
New steel concepts for additive manufacturing
Further information can be found at www.hk-si.de.
---

04. bis 06. December 2023
Grundlagen und Trends in der Werkstofftechnik von Stahl
Seminar content:
Trends in the materials technology of steel
Current and CO2-neutral process routes to steel
Crystal and real structures
Phase transformations in steels
Materials databases
Alloying and accompanying elements
Steel materials in additive manufacturing
Adjustment of properties by heat treatment
Non-destructive testing of properties
Strength and toughness
Cold forming / hot forming
Fatigue strength
Electromagnetic properties
Anthropogenic material cycles
Organisation:
Steel Academy, Steel Institute VDEh
Cooperation partner :
Fachvereinigung Kaltwalzwerke e. V.
Venue:
Steel Institute VDEh / Steel Centre
Sohnstraße 65
40237 Düsseldorf
Detailed information on the seminar can be found on the following website.
---

30. und 31. January 2024
Korrosionsverhalten nichtrostender Stähle
The passive layer on its surface determines the corrosion resistance of stainless steel. If corrosion occurs, it means that the passive layer has been destroyed. This seminar will show how resistant the steel is, how destruction of the passive layer can occur. The decisive factors covered in this seminar are the right choice of steel, machining and processing and the correct treatment of the surface.
Organisation:
Steel Academy, Steel Institute VDEh
Cooperation partner :
Informationsstelle Edelstahl Rostfrei (ISER)
Federal Institute for Materials Research and Testing (BAM)
FOSTA - Research Association for Steel Application e. V.
Venue:
Steel Institute VDEh / Steel Centre
Sohnstraße 65
40237 Düsseldorf
Detailed information on the seminar can be found on the following website.
---
27. und 28. February 2024
24. Kolloquium "Gemeinsame Forschung in der Klebtechnik"
Venue: Maternushaus Cologne
DECHEMA Society for Chemical Engineering and Biotechnology e.V.
Contact: Andrea Köhl
Phone: +49 69 7564 235
E-mail: andrea.koehl(at)dechema(.)de
The colloquium "Joint Research in Adhesive Bonding Technology" has been the forum for adhesive developers - manufacturers and users for many years. Overview lectures, presentations by adhesive manufacturers and lectures on projects of joint industrial research provide a comprehensive picture of the current status in research and application.
You can find further information at:
---

12. und 13. June 2024
Osnabrücker Leichtbautage - Moderner Leichtbau in der Landmaschinentechnik
Leichtbaulösungen sind in der Automobilbranche genauso gefragt wie in der Landtechnik. Die Veranstaltung an der Hochschule Osnabrück bringt Vertreterinnen und Vertreter unterschiedlicher Bereiche zusammen, um die Querschnittstechnologie zu fördern.
Die fünften Osnabrücker Leichtbautage zeigen, wie intensiv zum Thema Leichtbau in Wissenschaft und Wirtschaft geforscht wird und wie groß das Innovationspotenzial in verschiedenen Bereichen der Industrie ist.
Veranstaltungsort
Universität Osnabrück - Hörsaalgebäude
Barbarastraße
49074 Osnabrück
---