27. und 28. October 2022
40. Vortrags- und Diskussionstagung Werkstoffprüfung 2022
Das Programm zur 40. Vortrags- und Diskussionstagung Werkstoffprüfung ist online. Mit sechs Plenarvorträgen und über 80 Einreichungen bietet die etablierte Tagung ein maßgebliches Forum für die Präsentation und Diskussion der Fortschritte auf dem Gebiet der Charakterisierung von Werkstoffeigenschaften.
Die Tagung findet vom 27.-28. Oktober 2022 als hybride Veranstaltung in Dresden und online statt.
Veranstalter
Deutsche Gesellschaft für Materialkunde e.V. (DGM)
in Kooperation mit
Deutscher Verband für Materialforschung und -prüfung e.V. (DVM)
Stahlinstitut VDEh
Tagungsleitung
Frau Prof. Dr.-Ing. Martina Zimmermann
Fraunhofer-Institut für Werkstoff- und Strahltechnik IWS und Technische Universität Dresden
Tagungsorganisation
Deutsche Gesellschaft für Materialkunde e.V.
Marie-Curie-Straße 11-17
53757 Sankt Augustin
---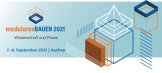 modularBUILDING 2021
07-08 September 2021 I Aachen
Modular construction and module buildings are becoming more and more important. One reason for this is the high and urgent demand for residential and functional buildings with long realisation times of fully utilised construction companies.
Another reason is increasingly sophisticated concepts and new ideas with prefabricated parts, innovative materials and clever digitalisation: this is how projects can be realised that meet complex and high aesthetic demands as well as tight deadlines and budgets.
The "modular BUILDING 2021" congress will highlight all these aspects:
Requirements of architects and planners, experiences of operators, impulses from scientists and the ideas of companies come together. Learn from impulse and expert lectures, discuss in workshops, join in matchmaking and networking at the buffet: two exciting days with lots of news and interesting contacts are waiting for you!
The event is accredited as a training programme.
Conference language is German.